Posted in
Cooking
,
Health
,
Winter
on November 25th, 2013 by Cheri –
Be the first to comment
Cold fog limits my views to a block away this morning. Breakfast was hearty – porridge with berries, coffee on the side. Since developing this recipe earlier this year, I've continued to tweak it. Mentioning to a neighbor over the weekend reminded me to post the new version.
Winter Porridge (4-6 servings)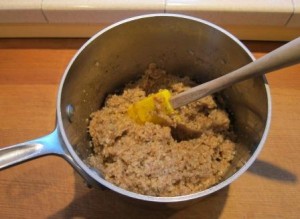 Cooking ingredients (all heaping):
1/3 cup + 1 T quinoa, rinsed
pinch salt
1 & 1/3 cup water
1/4 cup oats
2 T ground flax seed
2 T hemp seeds
¼ cup maple syrup or brown sugar or honey
1 t cinnamon
Serving add-ins (all optional and amounts, to taste):
milk (almond, rice, soy, coconut, goat or cow)
fruit (frozen or fresh blueberries, fresh raspberries, strawberries, banana, etc.)
nuts (shaved or sliced almonds, almond or peanut butter, walnuts, pecans, etc.)
Steps:
In medium saucepan, combine quinoa, salt and water.
Bring to a boil then reduce heat, cover and simmer for 7 minutes.
Add oats, cover and continue to simmer for 7 more minutes.
Remove from heat, quickly add remaining cooking ingredients.
Stir well to combine.
Serve Immediately:
 Spoon into bowls, topping with milk, fruit, nuts. Enjoy!
Serve Later:
Transfer cooked porridge to container and refrigerate.
When ready to serve, slice porridge from above into 4-6 wedge-shaped servings.
Place one serving in bowl with ~1/2 cup milk (and optional 1 T nut butter). Stir to combine.
Heat covered in microwave on high for 1 minute
Add frozen fruit, stir, heat for 1 more minute.
Add fresh fruits and nuts, stir and enjoy!