Posted in
Books
,
Port Townsend
,
Thrift
on March 3rd, 2014 by Cheri –
Be the first to comment
Though not religious and, in all honesty, not really spiritual, it seems I have a cosmic connection with the gods of the thrift store. Quests used to be on a written list but now all I have to do is imagine something I need and, voilà!
Inspired by a book, pictured on a shelf, in the on-line musings of a fellow artist, a similar yellow spine called to me recently from the lowest shelf in a Port Townsend thrift store.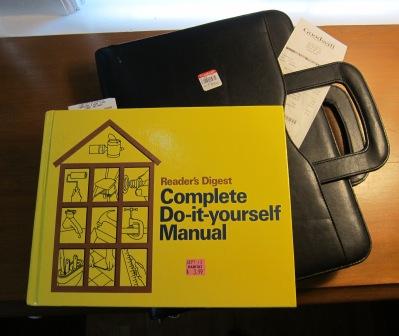 Then, a zippered notebook with handle appeared at a Seattle Goodwill just days after I'd imaging replacing a conventional notebook used to store supplies for a future art project (the thin foil yogurt lids kept sliding out of the plastic sleeves).
This is some good karma! I need to go shopping more often.