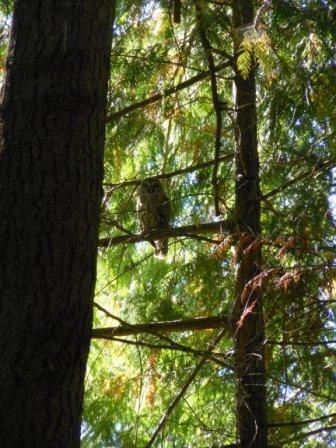 This past weekend found us enjoying some of what the Quimper Peninsula has to offer (that's the tip of the Olympic Peninsula where our new home of Port Townsend is located).
Actually, part of our time was spent on Marrowstone Island but that's a topic for another post.
We visited several stops on the Jefferson County Farm and Fiber Tour, including Amity Fibers, WSU's Twin Vista Ranch and Rosebud Ranch and Fiber Studio.
We were so immersed and enjoying our time that our cameras made few appearances, except at the latter, where I spotted this owl high up in the trees, watching us.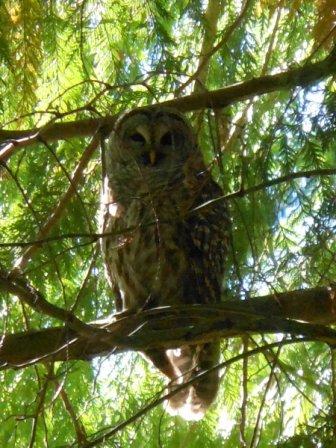 Can it be that we saw an elusive Northern Spotted Owl? Revered by tree huggers and reviled by the logging industry, these medium sized owls were a hot topic a few decades ago and the symbol of the tension between extraction industries and conservation.
It's more likely that this is a common Barred Owl, like the owl who visited our Seattle neighborhood a few years ago.
It's hard to tell since the owl was far away and in the late morning shade of the forest. I can't see the distinctive lined pattern created by the feathers of a Barred Owl, but it's really unlikely (perhaps wishful thinking on my part) that it could be anything more exotic and rare.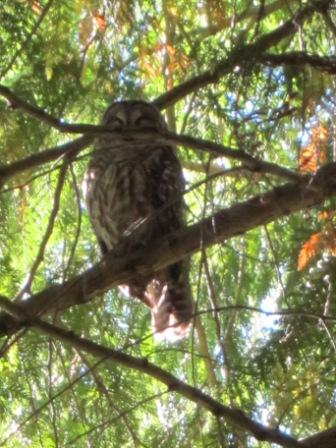 But after a weekend spent discussing heirloom seeds and livestock, one can always hope.
Alert and concerned initially, the owl eventually relaxed in the presence of humans, llamas and alpaca.
P.S. Thanks to Peter for the above two pictures. Mine were noticeably less successful.
I've been lamenting for a while that my camera doesn't consistently let in the right amount of light in outdoor settings. It's a problem I've had since I had it cleaned and serviced a while back.
Fuzzy photos make me crazy! It may be time for a new camera.