Posted in
Cooking
,
Family
,
Michigan
,
Nature
,
back yard farming
,
flash back
on July 21st, 2014 by Cheri –
2 Comments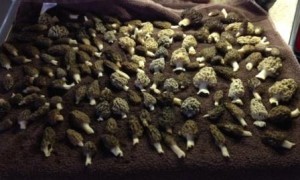 Though we are well into summer, in Seattle and Port Townsend, my mind wanders back to this past spring and looks forward to the next. Living in a more rural setting, I need to get back to my mushroom hunting roots. Technically, the morels I so dearly love are not a mushroom but another type of fungus. Regardless, they are yummy!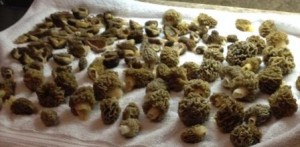 Though there are many other edible mushrooms in Washington State, I'd never hunt anything except the familiar.
We tried growing chanterelles and shitaki in our backyard this winter (we still have the oak logs with the sawdust plugs filled with spore) but got no where.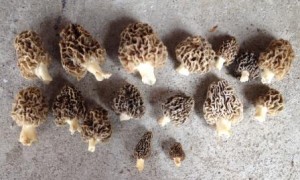 With the cold weather, it was impossible to keep them damp and at the right temperature to produce. A backyard is just a poor facsimile of a forest.
Growing up, we found morels in cottonwood "forests" in Wyoming. They grew in and around dry stream beds and areas that had been burned at one time.

It was a more arid setting than here, but I know there are morels to be found throughout the Pacific Northwest and I've read that it is legal to hunt them, for personal consumption, on public land.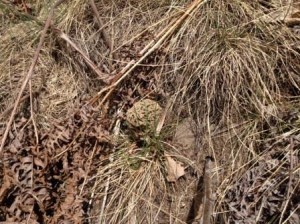 I'll need to get some pointers from my brother, who has an instinct for where to find them. He sent these photos from their home in Michigan in May. The array of morels on the back of a pick-up truck takes me back (and I'm jealous!).
I would imagine our season may be later, but who knows. Since we are a short walk from woods, I need to do some hunting next year.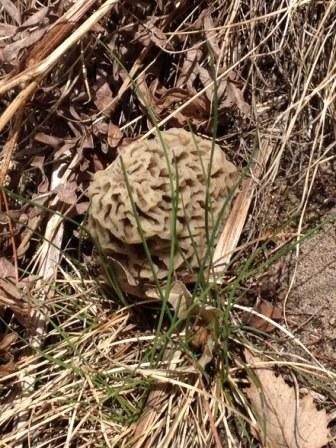 They are not easy to find, as you can tell by this photo. But, like anything you grow up with, I know I'll be able to spot them. Perhaps it will be like riding a bicycle?
When my brother sent these pictures, I emailed him back and asked (begged?) him to send me some of the actual morels. He said he couldn't – they'd eaten them all.
My sweet husband came to the rescue.
We occasionally buy slice pizza; Peter has treated me twice to a seasonal speciality from Pagliacci Pizza – black morels, chicken sausage and other mushrooms.
Yummy!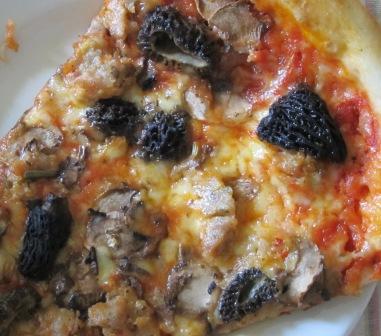 Though the cheese doesn't really agree with me, I suffered through it, for the sake of fungus.
Sadly, that seasonal flavor combo is gone, but at least I know that if my hunting is unsuccessful, I can enjoy morels on pizza next year.
(Of course, I could just buy them at Whole Foods, but what fun would that be?)