Posted in
ALS
,
for a good cause
,
Mom
on August 24th, 2014 by Cheri –
Be the first to comment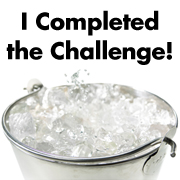 At 8am on a crisp 53-degree Saturday morning in Port Townsend, we dumped buckets of cold water on our heads, and had ourselves filmed by my dear friend Melissa on her iPhone, becoming part of almost important social media phenomenon. Cheri & Peter – ALS ice bucket challenge
Of course, it was the Ice Bucket Challenge to raise money for, and awareness of ALS, a cause close to my heart…
I first heard of the challenge a week ago when our friend Rachel made a contribution to the fund we established in 2012, honoring my mom. Busy with my EDGE class, I didn't click on the link she sent me until Wednesday. A few more contributions and links in emails and I finally started exploring. I was already in tears from having watched this video (skip to just before 2 minutes to watch the important part), but really lost it when I realized that Rachel's link included a video of her 11-year old son Ethan accepting and issuing his own challenge.
When I called them, still in tears, she told me how he'd asked about the disease and she'd shared stories about Mom. It must have been a hard conversation when she had to explain that people don't get better when they have ALS.
Sigh.
I can't even type those words without crying; I miss my Mom so much and feel robbed of the years we should have spent together in her old age. It just isn't fair. This past Tuesday would have been her 77th birthday. We've worked hard for the past 16 years to raise money and awareness for ALS, then this miraculous thing happens and, suddenly, this orphan disease, that gets little attention and little funding from industry or government, is in the nation's consciousness. As Anthony says, you can all go back to watching cat videos soon, but, for now, the ALS community has the spotlight.
We've met our goal for our Norma Fruchey Promise Fund (www.alsa.org/NormaFruchey) and had retired from active solicitation. However, given what's going on, I need to make one last "ask". We've enjoyed great support over the years, raising ~$130,000 since Mom died.
I was tempted to challenge all our past donors, but Peter said we should keep it simple.
So, we called out my brother Lyle Fruchey and his family, our friends the Jensen family and Sara Avery (a Fruchey family friend who created this video about Mom for our fund website).
Unofficially, I invite you to douse yourself, if you like, and help in the fight against ALS.