Posted in
Art
,
Assemblage
,
Cheri's Work
,
Marriage
,
Shows
on April 24th, 2014 by Cheri –
Be the first to comment
Looking across the room during art openings, I often spy Peter, somewhere off to the side or in the back, looking attentive, but tired. These events energize me; it's easy for me to get lost in conversation and creativity and forget that they don't have the same affect on him.
I love that he so willingly attends, often driving me to and from, but I need to make this easier on him. If I encouraged him to bring a book and find a quiet spot to read, it would be more enjoyable for us both.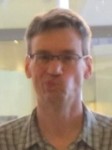 Here he is at Interactive, in Redmond on April 12th, before he knew I aimed the camera at him, and after. Zoomed, cropped and backlit, these are poor, blurry images, but they tell a good story.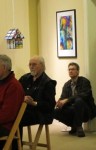 There he is again, at the opening of Abstract, the eponymous show sponsored by the Evergreen Association of Fine Arts (EAFA)  at their Seattle Design Center gallery on March 20th.
The presentation and awards went on for a while; I wanted to sit down myself but all the chairs were taken by the time I stopped looking at art and talking to artists – go figure. It was a nice crowd for a good show.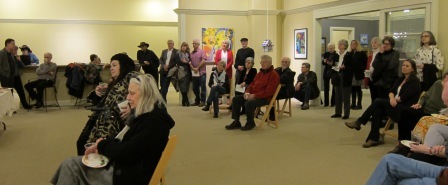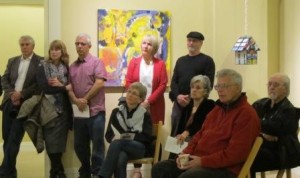 I neglected to post about this show…
I drafted this while sitting in the gallery, a task asked of all participants. Expecting quiet on a Wednesday, I took my laptop. Without wifi, productivity was high – I organizing photos and files, and wrote without any pesky pings.
Anyway, back to Peter. He must sense me photographing him, as he often turns towards me. Then again, so did the gentleman in the cap, who smiled slowly as he realized he was in my shot.
That's my piece, Dial Up Is For The Birds, in the corner. Thanks to my artist friend James McFarlane for this photo.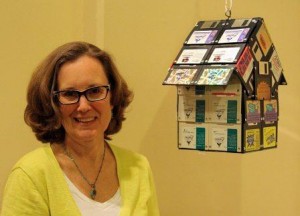 It is flanked by Suzanne DeCuir's The Needle (left) and Jerome Kaufmann's Tree of Life: USS Arizona Memorial. You can't tell in these photos, but her piece is oil on canvas and his is a photograph (of an oil slick on the salt water above the sunken ship).
Everyone I spoke with thought it was a good show, and surprisingly exuberantly colorful, given the theme.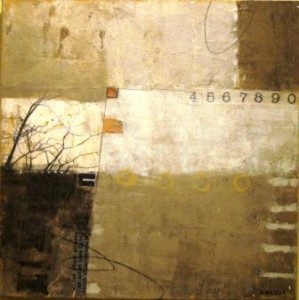 Perhaps it's a sign that Puget Sounders need more brightness in our lives? (That is so true on this dreary Thursday.)
Overall, the artworks in the show were an interesting contrast to the more subtle palette of juror Donna Watson.
This is her acrylic collage Reminders.
The show closes next week so I'm sorry to be posting this so late and to not have more images to share. It's been a good, but busy month, as evidenced by the fatigue on both our faces.