Posted in
Art
,
Artists I Know
,
Artwork
,
Shows
on April 17th, 2014 by Cheri –
2 Comments
One week ago tonight was the opening reception for The Meaning of Wood at South Puget Sound Community College in Olympia (details in sidebar ==>>).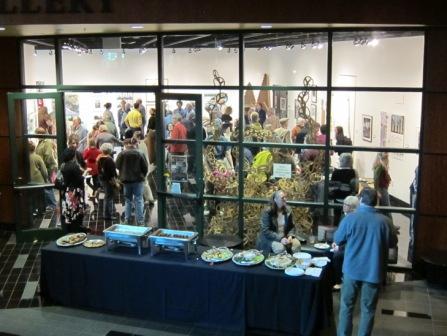 Peter left work early so we could make the trek south to arrive before the crowd so I could take pictures.
It's a good thing we did; this is the scene an hour in (thanks to Peter for taking this picture while I mingled).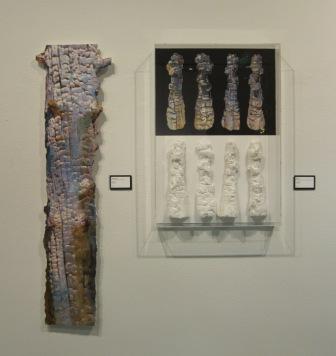 As was the case when this show appeared in Longview, it was curated by Suze Woolf. Continuing her work painting burned trees, these are her works. Tauromachia is painted on shaped watercolor paper, then mounted to foam core so it sits out from the wall, achieving a dimensional affect.
The work under plexi, Inverse, is cast paper, molded from actual burned branches, with painted versions above. I'd seen these when she was originally casting and love the finished assemblage.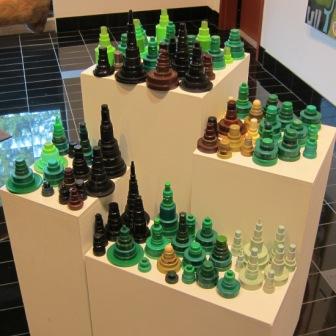 My forests continue to grow. Forest of Tomorrow? is now at ~85 trees. Inspired by Suze's obsession, my dead trees form a vein, as though they had been touched by fire and the smaller adjacent trees spared. It was a happy accident that the black trees are the tallest.
Forest of Yesterday has grown to five Brown Paper Trees, each of a slightly different design.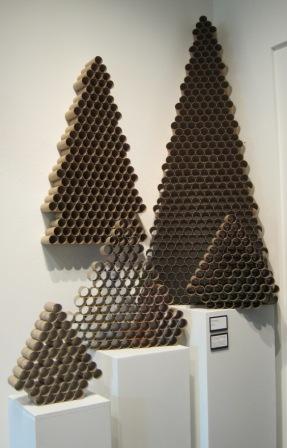 This may be the final showing for the tallest tree. At over 5 1/2 feet tall and 2 feet wide, it is transported in six pieces and assembled in place. The height, coupled with the weight of the paperclips that join the toilet paper tubes, makes it unstable at the top. This time, we leaned it against the wall and nailed it to the pedestal base to keep it from falling.
On the other hand, with reviews like this one, perhaps I'll work on ways to strengthen the structure.
The gallery manager, Nathan Barnes, suggested attaching one tree to the wall. It took us some time and input from show co-organizer Kathy Gore Fuss to find the right arrangement of the others.
Kathy's painting Cedar IV, is on the right in the photo below. She paints the forest near her home in Olympia. I hear she has a fabulous studio and hope to visit when we take the show down.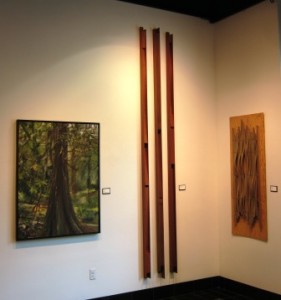 Also pictured are Horizontals 36, 37, and 38 by Stephen Kafer. This photo doesn't begin to do them justice – they are assembled from different types of wood, the grain and rough broken ends showing the real beauty of the wood.
Wood Solace by Perri Lynch Howard, is on the right. This is a new addition to the show with lovely detail of undulating wood laminate strips mounted on a wood base.
Ironically, one of my favorite pieces from Longview, named Solace, by Aaron Haba, also used wood to create movement.
This is a packed show, in a smaller space. I like the intimate, single floor arrangement. The pieces seem to play with each other more. I have more photos to illustrate that thought but will save for another post.